Recent
In late April of 2018 Fieldwork hosted 11 people for a making and firing workshop. Eight people lived and worked together for over 3 weeks, along with four others from Kobe who came along part-time. The workshop was led by Bruce Dehnert, one of America's leading potter/educators who runs the ceramics department at Peters Valley in New Jersey. We made pots for four days. While the pots were drying we traveled to Tanba to see the old kilns and also visited Kobe and Kyoto. Upon returning to Sasayama, we loaded the kiln in three days and fired for six. After the firing we all traveled together to Shigaraki, another old pottery town. While the kiln cooled everybody traveled for a few days. The unloading happened on May 12th.
It's hard to describe what a remarkable event this was. While over the years I have hosted many potters for firings, I have never had so many for so long, and I had never handed the control of my kiln to another. The facilities at Fieldwork are 'cozy', meaning we are working and living in close proximity. Everyone worked together wonderfully; cooking, cleaning, mixing glazes, loading the kiln, and firing all went off without a hitch. Everyone chipped in and did their part. It was just a great group. At the beginning most were strangers to each other, by the end, fast friends.
Bruce did a fantastic job with every aspect of the workshop. He's a remarkable guy and I feel so fortunate to have been able to lure him over for this event. The expression, 'Hitting on all cylinders' comes to mind, and Bruce's motor is a Ferrari. He's a crazy combination of a nurturing teacher while also an inspiring artist. He's a talented writer and film maker. He's compassionate and irreverent, with both a fierce intellect and hilarious sense of humor. It was simply a joy and an honor to have him around for 3 weeks.
This workshop reinforced what a gift Fieldwork is for me. And the best part is being able to share it with others. Take a moment to view the pictures below.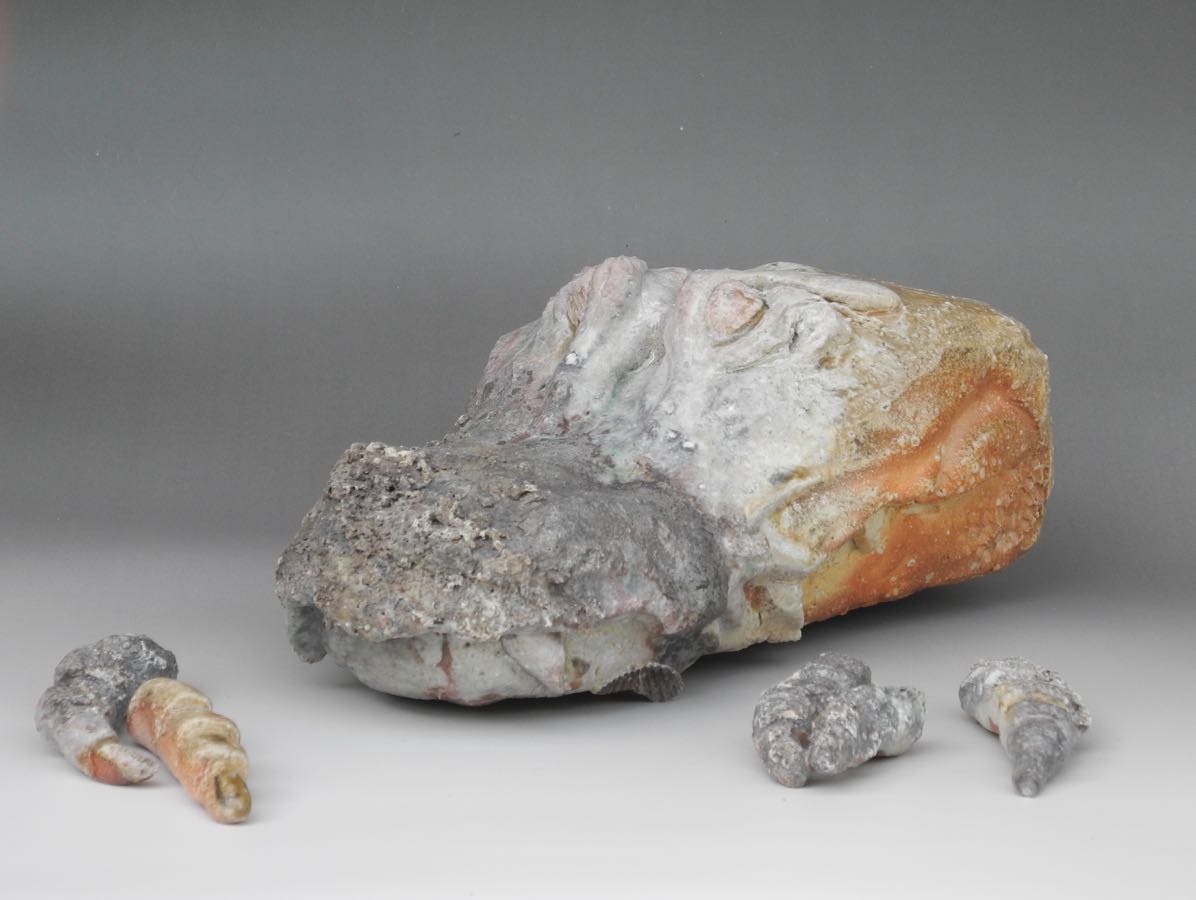 European Tour: Ireland and Germany. Spring 2018
This spring I was invited to give workshops in Ireland and Germany.
I flew into Dublin on March 13th and caught a bus down to Cork where Marcus O'Mahoney met me and took me to his home and studio outside the beautiful castle town of Lismore. Marcus is one of Ireland's premiere studio potters. His beautiful wood-fired pots are both playful and mature, and have inspired me over the years. Marcus and his wife Joan had visited me here a couple of times while he was teaching in Japan. Over those visits we hatched a plan for my visiting Ireland. It finally came to fruition this spring. During my stay there we loaded and fired his kiln, and over St. Patrick's Day weekend they hosted around 20 potters for a 2-day workshop. It was such a fabulous opportunity for me. Please view the pictures below.
After Ireland I flew to Munich Germany where local potter Ralf Burger had arranged two workshops for me. Along with being a potter, Ralf also runs tours of Japan centered around Japanese Ceramics. I have luckily always been included on these tours and have made some wonderful friends when they've stopped by Fieldwork.
Ralf first took me up to Landshut, a beautiful small Bavarian city about an hour north of Munich where Keramik Schule Landshut is located. The ceramic facilities with over 100 students were amazing. I gave a lecture and one-day demo there.
After the demo we drove south of Munich almost to the Austrian border where Ralf lives and has a studio outside the town of Murnau. I woke the next morning to 10cm of snow with the Alps towering over us. We had a two-day hands-on workshop at Ralf's studio with potters from as far away as Berlin. It was again, another incredible experience. Pictures below.
Firing the Oki-doki Anagama in Germantown, NY, July 2017.
I was honored to, once again, be asked to lead the firing of Susan Kotulak's Oki-doki kiln. This is possibly my favorite kiln to fire. From front to back, floor to ceiling; there isn't a bad spot in the kiln. It's easy to fire, the temp climbs in reduction, and when it stalls, a simple tweak of the damper gets it going to where you want. But like any firing, the kiln is only half the story. Susan and her husband Ron Sencer have created such a warm and enjoyable environment. The stoking crew was a great mix of a few of my students making their first trip to fire in America, and the old hands of the Oki-doki. It was a fantastic bunch. During the cooling we had field trips to Stormking; the famous sculpture garden near Newburg NY, and visits to Jeff Shapiro, Peters Valley and Peter Callas. Thank you Sue and Ron!
Kiln Building/Firing workshop. December, 2016
This December master kiln builder John Bradford, from Taos, NM, came over to lead a kiln building/firing workshop. With seven participants, five local and two from the US, we built a small anagama that tied into the back of the chimney on our larger anagama. Over two three-day weekends we managed to build it. We loaded on December 27 and 28th. Lit it that evening and fired it off with cone 12 over at midnight New Years Eve. Shiro christened it 'Little Snapper' based on the shape, a name at which most Japanese cringe. It was a great way to ring in the New Year. Pictures below.
Hank Murrow residency and Fall Firing
This fall we were very fortunate to have Hank Murrow here for a 6-week residency. Hank, an Oregon Potter for over 50 years, has been on the forefront of Shino glazes in North America. He was a joy to have around. He gave demonstrations at our studio here and also at The Canadian Academy for the students and teachers there. Hank is an incredibly generous soul and we were very fortunate to have him here.
I was also blessed with an wonderful assistant for 3 months this fall: Tyler Billman. A student at the University of Chicago, he had taken a semester off to work with us here. For a 21-year old he was wise and capable beyond his age. He was never late, and never complained about any dismal job I asked him to do. He is sorely missed.
While they were here we fired the big kiln and it was one of the best firings we have had. Another young man, Sean Couley was here for the firing. I feel extremely fortunate to be able to be a conduit for the people who love Japan and ceramics.
Snow Mountain Firing, Reno NV. March, 2016